OVERALL "SAFETY neo"
The outstanding features of this coverall are its breathability and that it is extremely comfortable to wear. It is made of a lint-free polyester filament, with a CARBON YARN woven into it in order to bleed off potential static. In addition, the coverall is prepared with dirt- and water-repellent TEFLON-finishing.
Our coverall "SAFETY neo" complies with EN 1149-1 and it goes without saying that it is CE conform. For safety reasons the fabric of the coverall is inflammable and is EN ISO 14116:2008 index 1 (former EN533) conform.
To make the wearer feel comfortable, special care was given to the following details:
Colour blocking within back and front yoke as they are designed in a different colour
Breathability and a comfortable fit

Antistatic, free of silicone, washable and it can be ironed

Coverall "SAFETY neo" is available in 7 sizes:
(S, M, L, XL, 2XL, 3XL, 4XL)
Available colours: dark blue / light slate blue alternatively: dark grey / light grey
Sewing methods 



Piped seam (Bound Seam) – tighter, stronger, fantastic
This sewing method which is applied to style SAFETY neo + SAFETY neo KITTEL makes all the difference regarding the tightness and the tearing strength. After several tests we have decided to use the piped seams as they are the most solid and trust-worthiest ones. The seam piping is an additional seam at the seam edge and therefore an efficient covering. The seam is stronger because it is doubled. The extra fabric which is used for the piping is texture with carbon yarn, it ensures that even after many washings

 

it still bleeds off potential static.
Hood with buttons for models "SAFETY neo" and "SAFETY neo GOWN"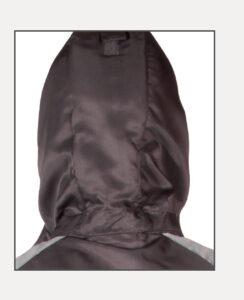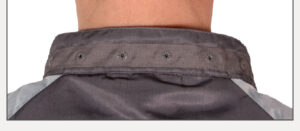 Take the opportunity to order without risk. We strive in our catalogs and on the website for a color-proof reproduction of the articles – it is still nice to hold the clothes in your hands and personally try on. You can request any article of the NORTHSHIELD brand for 10 days.
If you want to keep the samples, or they have not been returned within 10 days, you will be charged by us. In the case of a return you bear the costs for the dispatch. Non-return shipments are not accepted.
Order without risk: TEL +49 (0) 4181 – 92 30 3
 Antistatic

Standard DIN EN 1149-1:2006 and DIN EN 1149-3:2004, official carried out valuation standard DIN EN 1149-5:2008

Inflammable

Standard EN ISO 14116:2008 (former EN 533) Index 1

Breathable fabric

investigation of water vapor permeability
(Ret-figure = 2.37 m² Pa/W = extremely breathable)

Change of measurement

Standard EN ISO 5077:2008 / EN ISO 6330
Additionally to these qualities the overalls are dirt-and water-repellant with Teflon-finishing. We offer products of excellent quality while maintaining maximum cost-efficiency.
Being at home within this sensible field of explosion prevention and solvent recycling we have deliberately expended the effort.
The fabric of the styles SAFETY neo + SAFETY neo KITTEL + PROFESSIONAL is
examined by:
–  STFI (institution for certification of safety garment)
–  HOHENSTEIN Institute
–  TESTEX